Going fast! Get yours now before we sell out.
Colorado Buffaloes It's a New Era/100th Annivsary at Folsom Field Limited Edition Exclusive Football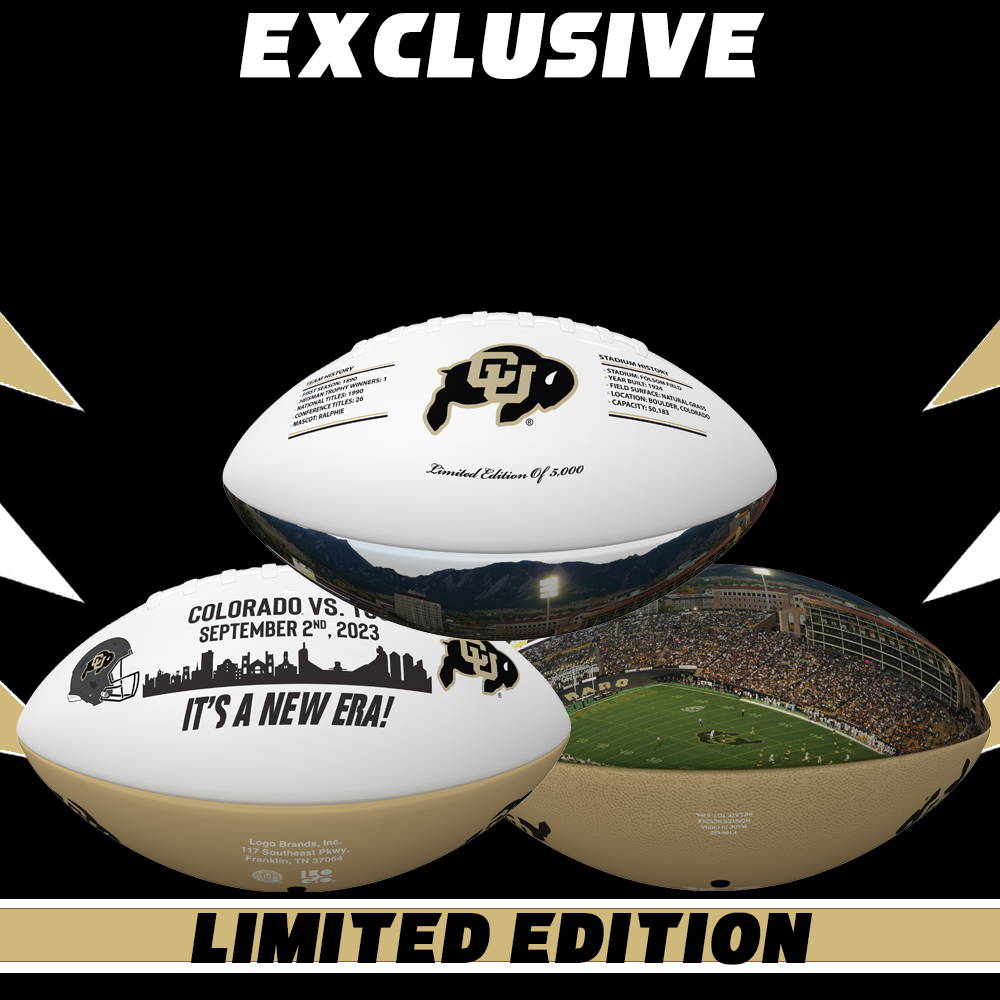 **FOR IMMEDIATE RELEASE**
*FOR BUFFS FANS, A CENTURY OF LEGACY CELEBRATED: THE COLORADO BUFFALOES EXCLUSIVE 100TH ANNIVERSARY FOOTBALL*
Boulder, CO – September 20, 2023 – Folsom Field, a hallowed ground for Colorado Buffaloes fans, is about to reach a remarkable milestone - its 100th anniversary. To mark this historic moment and usher in a "New Era" under Coach Prime's leadership, Nikco Sports proudly presents the Colorado Buffaloes Exclusive 100th Anniversary Football.
Folsom Field, with its storied history and iconic status in college football, has witnessed countless memorable moments, including the crowning glory of the 1990 national championship victory. This year, as it hits the century mark, we invite Buffs fans worldwide to join us in celebrating this incredible legacy.
The Colorado Buffaloes Exclusive 100th Anniversary Football is a true collector's gem. Limited to just 5,000 pieces, each football is a unique testament to the rich heritage of Folsom Field. It proudly bears the 100th-anniversary logo, symbolizing a century of excellence in college football. Furthermore, it commemorates the "New Era" with Coach Prime at the helm, signifying a bright future for the Buffs.
Each football comes with an individually numbered certificate of authenticity, assuring its exclusivity and provenance. Crafted with the utmost care and precision, these footballs are built to stand the test of time. Rest assured, they are fully licensed by the NCAA and Colorado, guaranteeing their authenticity as genuine Buffs merchandise.
But what truly sets the Colorado Buffaloes Exclusive Football apart is its emotional significance. Folsom Field has long been a sacred gathering place for Buffs fans, where lifelong memories are forged, and traditions are passed down through generations. This football serves as a tangible reminder of those cherished moments, encapsulating the spirit of Folsom Field for all time.
Whether you've been a die-hard Buffs fan for decades or are just embarking on your Buffs journey, this limited-edition football is a must-have addition to your collection. It's not just a football; it's a piece of history, a symbol of support for the Buffs' "New Era," and a tribute to the 100th anniversary of Folsom Field.
Why should every Buffs fan own this exclusive football?
- Limited to only 5,000 footballs, it's a truly one-of-a-kind collector's item.
- Crafted with top-quality materials for longevity.
- Fully licensed by the NCAA and Colorado for authenticity.
- A tangible connection to the cherished memories at Folsom Field.
-Not sold anywhere else.
The Colorado Buffaloes Exclusive 100th Anniversary Football is more than just a collectible; it's a celebration of a century of Buffs greatness and a must-have for every devoted fan. #GoBuffs #wecoming
For media inquiries, please contact:
Todd Weinhaus
Director of Digital Marketing
Email: Toddw@Nikcosports.com
Phone: 800-777-4070
Nikco Sports is a leading name in sports memorabilia, specializing in creating exclusive and collectible items that celebrate the passion and legacy of sports. With a commitment to quality and authenticity, Nikco Sports has been serving fans and collectors for over 30 years